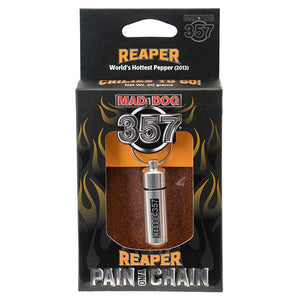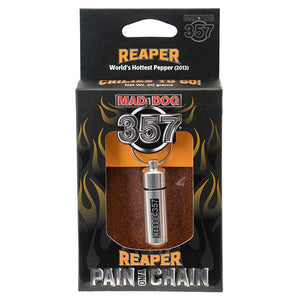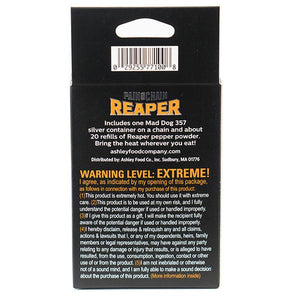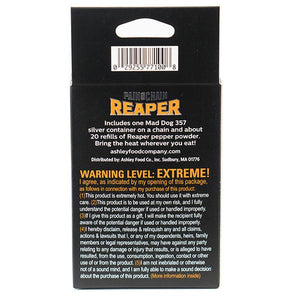 On Sale
Mad Dog 357 Pain on a Chain Reaper
You won't want to step out the door again without our Mad Dog 357 Pain on a Chain: Reaper.
Ranked as the hottest pepper in the world, pure Carolina Reaper Pepper powder is packed up with a capsule keychain to deliver the spice you want, when you want it. It's the extra flavor and heat that goes anywhere. To guarantee heat purity, Pain on a Chain: Reaper is made using our own chili pepper mill. 
Includes a Food Grade capsule keychain and about 20 refills.
Ingredients, Custom Ground Whole Reaper Pepper Pods to a 30 grind Reaper pepper powder.
20 grams
Due to the EXTREME nature of these products, please read the following disclaimer:
Click HERE to read the disclaimer.
At Ashley Food Company, we do one thing. We make great-tasting and award-winning hot sauces, extreme hot sauces, and pepper extracts. We make each sauce in hand-measured, small batches to ensure incredible flavor and quality. All of our products are made in the USA, using only the finest, all-natural ingredients.