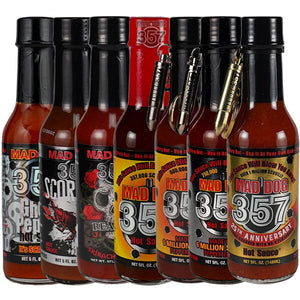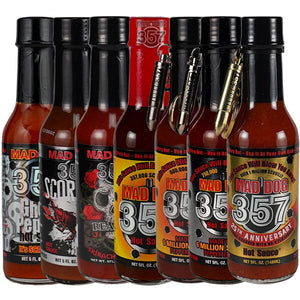 On Sale
Magnificent Seven Hot Sauce Gift Pack
SEVEN of our most MAGNIFICENT hot sauces all in one gift pack for the serious ChileHead.
We've changed the meaning of packin' some heat!
Mad Dog 357 Gold Edition Hot Sauce: Gold doesn't always glitter. Sometimes it burns1 Million Scoville ( SHU) What images do you conjure in your mind's eye when you think about gold. Does it glitter and shine? Or is it an unpolished rock found underneath the Earth's surface? Either way, we're sure you've dreamt of liquid gold. And we've got just the thing.
Mad Dog 357 Silver Edition Hot Sauce: No extreme hot sauce collection is complete without the world's hottest sauce on the planet. And, that's the Mad Dog 357 Collector's Silver Edition packing 750,000 sizzlin' Scoville units, along with the heavyweight crown of the World's Hottest Hot Sauce. Sporting an oh-so-apropos bullet on a key chain fastened to the bottle of this killer concoction, makes this hotter than hot sauce a very cool collectible. (Unscrew the bullet for a useful surprise!), 750,000 Scoville Units.
The Mad Dog 357 Collector's Edition: Will frighten you with its 600,000 SHUs. It's part of the heavyweight crown-holding line of the World's Hottest Hot Sauces ever made. One taste and you'll know why there's a silver bullet on a key chain, fastened to the bottle. Get ready to brag, this was the first hot sauce created with HPLC-tested 6,000,000 Scoville Pepper Extract.

Mad Dog 357 Hot Sauce "Original Formula": With a blend of 160,000 SHU Cayenne peppers, fiery hot red Habanero peppers, and a whopping 3,000,000 Scoville pepper extract will provide a tantalizing tingle from your tongue to your toes.
Mad Dog 357 Reaper Sriracha Hot Sauce: Just one drop of this sauce and you'll imagine Death in his black hood standing over your shoulder, scythe in hand, ready to transport you to a world beyond this one. This sauce doesn't tiptoe across your tongue the way other Sriracha sauces do; it will pounce.

Mad Dog 357 Scorpion Hot Sauce: Think you like your hot sauce intense? Imagine being bitten by a scorpion - in your mouth! It's one of the most severe pains a human can experience. On February 13, 2012, New Mexico State University's Chile Pepper Institute identified the Trinidad Moruga Scorpion as the hottest chili in the world, with a mean heat of more than 1.2 million Scoville Heat Units! 
Mad Dog 357 Ghost Pepper Hot Sauce: Made with one of the world's hottest chile peppers, the Bhut Jolokia, this isn't just super hot, this is the world record killer hot. 

Due to the EXTREME nature of these products, please read the following disclaimer:

At Ashley Food Company, we do one thing. We make great-tasting and award-winning hot sauces, extreme hot sauces, and pepper extracts. We make each sauce in hand-measured, small batches to ensure incredible flavor and quality. All of our products are made in the USA, using only the finest, all-natural ingredients.