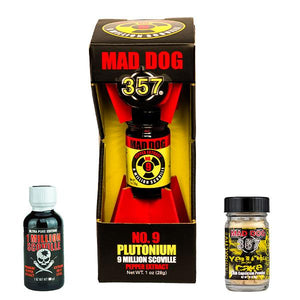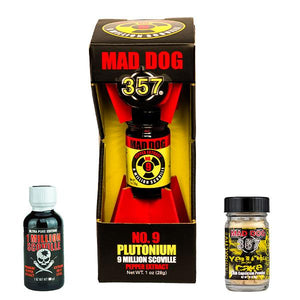 On Sale
Mad Dog 357 THREE Bottle Nuclear Pack
This THREE Bottle Nuclear Pack lets you blow something up at dinner tonight
Three of our most popular products packed together for a great deal!
CONTAINS:
1 Bottle Mad Dog 357 No. 9 Plutonium 9 Million Scoville Pepper Extract, 1oz
Guaranteed to be 9,000,000 Scoville Units
Please Note: You may need to warm the No. 9 Plutonium bottle to 140℉ to be able to remove the pepper extract from the bottle

1 Bottle Mad Dog 357 Yellow Cake 1.6M Capsicum Powder.
 Mad Dog 357 Yellow Cake is exclusively manufactured for Ashley Food Co
10% Capsicum Powder with 1,600,000 Scoville HPLC

1 Bottle Mad Dog 357 ECO 1 Million Scoville Ultra Pure Pepper Extract
A special version of our famous 1 Million Scoville Extract

,

the same great recipe, delivered in a cleaner way




Doesn't contain any of those harsher flavors you expect from an extract
Due to the EXTREME nature of these products, please read the following disclaimer:
Click HERE to read the disclaimer.


At Ashley Food Company, we do one thing. We make great-tasting and award-winning hot sauces, extreme hot sauces, and pepper extracts. We make each sauce in hand-measured, small batches to ensure incredible flavor and quality. All of our products are made in the USA, using only the finest, all-natural ingredients.