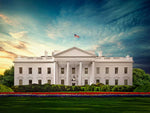 With President's Day soon approaching, we wanted to reflect back on the palates of Presidents
Here are highlight of the Commander in Chiefs who appreciated the finer things in life, you know like a spicy bowl of chili.
And although we can't all agree on politics in general, it's nice to know we can't judge a man's taste in spicy food, especially when he likes a jalapeño cheeseburger!
George W. Bush: His favorite meal on Sunday mornings was Huevos Rancheros with spicy chilies. He would eat this before church and then more times than not have it again for lunch.

It was no secret that Bill Clinton was a "foodie" his days in the White House. Even when he was the Governor of Arkansas his favorite food was a juicy jalapeño cheeseburger. His favorite foods while President kept with the spicy theme and included enchiladas, tacos, and tamales.

Jimmy Carter brought his Southern love of comfort food to the White House. On many occasions, the Carters would have regular weekend barbecues and serve one of their favorite dishes - spicy spare ribs!

Richard Nixon had a thing for cottage cheese, but when he needed a little spice, he put that aside for a Spicy Pepperoni Salad which he would enjoy for lunch at the White House.

Lyndon B. Johnson's wife Lady Bird was quite the cook and she loved cooking her favorite southern dishes for her husband. One of his favorite dishes was Pedernales River Chili which called for tons of spicy ingredients including "5 shakes of hot sauce".

Woodrow Wilson favored his wife's spicy "Hot Peppered Nuts" which were basically pecans roasted over an iron skillet with a generous amount of cayenne pepper added.

William Howard Taft was also into spicy nuts, but his weakness was almonds that were salted and cooked in butter and cayenne.

Benjamin Harrison was probably a man ahead of his time. A true "foodie" who liked his macaroni and cheese super creamy and cheesy just like the rest of us. Also, he loved his mac n' cheese spicy. He told his wife to put all the hot spices she could in the dish before serving it.

Both James Polk and Zachary Taylor enjoyed Creole Cuisine from New Orleans and favored the hearty and rich spicy soups like gumbo.

Barack Obama is probably the President who most enjoyed the spice of life. In a famous tweet he crafted towards the New York Times, he mentioned that guacamole is not guacamole without adding peas and hot red peppers. The Obamas also enjoyed spicy chili that can "clear your sinuses".