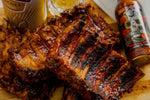 There is no way you can walk away from these ribs.
They've got the heat of a Mad Dog and the tender juiciness of pork cooked in beer. Wow!
On top of that, there's the tanginess of whatever BBQ sauce you love most.
Now, it does require a little bit of time to get these out of the oven, but it's worth the wait. You probably won't get them to the table, the gorgeous aroma that fills the kitchen as they cook will tempt you to cut off just one… no two… no…
Alright, this recipe will serve as many as eight people, which means you can serve it at a feast to celebrate National Beer Day. Oh, why wait, you'll want to make these this weekend.
Just do it.
Ingredients
5-6 pounds Pork ribs
2 medium Onions, sliced
1 can (12 oz.) Beer
2-3 teaspoons Mad Dog 357 Reaper Sriracha Hot Sauce
2 cups BBQ sauce
Preparation
Preheat your oven to 375ºF.
Brown the ribs in a large skillet over medium-high heat. (If you aren't using a non-stick skillet, be sure to spray it with a light coating of cooking oil.) You may need to do this in batches and it should take about 3 minutes per side.
Place the ribs on a large oven-proof pan (not a baking sheet, you'll need deeper edges). Scatter the onions around the ribs and then pour the beer into the pan. Cover with foil and cook in the oven until the pork is tender – about 2 hours, but give it a check after 90 minutes.
Meanwhile, combine the Mad Dog 357 Reaper Sriracha Hot Sauce with the BBQ sauce in a bowl and set aside.
Pour out most of the beer and spread the Mad Dog Reaper Sriracha BBQ sauce over the ribs. Return the pan to the oven, uncovered, and cook for another hour until the sauce is thick and the ribs are cooked through.