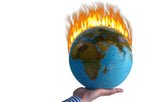 If you're a foodie, exploring new cuisines is crucial to your well-being and mental health.
You might concentrate on one area, or have a mad love affair with one flavor or another from time to time, but you need to try new foods… often.
You might be the first to try new restaurants or spend hours trawling the Internet for interesting recipes. And likely, you have a fridge full of condiments (much as seen in Fight Club). Why? Sauces and condiments are possibly the easiest way to bring exciting flavors into everything that you eat.
Ready to explore new hot sauces and international flavors? You'll want to try out some of these killer hot sauces
Africa and the Middle East
Africa is much bigger than you would expect. And, yes, they do tend to enjoy their food on the spicy side. The Middle East is actually a very small area of the globe, but they share a lot of culture and roots with some of the countries in North Africa. That's the main reason you'll find these areas linked together.
Between Africa and the Middle East, you'll find two primary styles of hot sauces.
Harissa – This is more of a paste than a sauce, and it's made with olive oil, garlic, coriander, and cumin (though there is some variation). Typically, Bird's Eye Chilies are used, and you'll typically find people slathering it on bread as often as it's used to baste meats prior to cooking.
Peri Peri – This is a sauce found in Sub-Saharan Africa (and popularized by the South African chicken chain, Nando's). It literally means pepper pepper and is also made using Bird's Eye Chilies. Our Boomslang Hot Sauce is a peri peri style sauce.
Asia, Near and Far
If Africa is large, Asia is diverse. Ranging from the Indian sub-continent all the way through Japan and the Pacific Islands, there are many cultures crammed into this side of the world. That makes it difficult to nail down just a few styles of hot sauces from this area, especially since these folks have a taste for fiery foods.
Achar – This type of sauce is almost limitless. It's a mix of chilies and… just about anything else. In India (and the surrounding countries), this is a typical condiment that's spooned onto food and served with just about every meal. Typically, you'll find chilies mashed with anything from mangoes and tomatoes to onions and cauliflower.
Gochujang – This hot sauce from Korea may look like tomato paste, but it has one hell of a kick. It's made from a variety of red chilies mixed with fermented soybeans, rice, sugar, and salt. If you're not aware of this sauce yet, just you wait.
Sambal – In Malaysia and Indonesia, you'll find an almost exhausting range of sambals. Simply put, it translates to the hot sauce, and it can mean just about anything made with chilies and ground with a mortar and pestle.
Sriracha – If you don't know about this garlicky hot sauce originating in Thailand, we don't know what to say. And if you haven't tried our Mad Dog 357 Reaper Sriracha Hot Sauce…
The Caribbean and South America
This area is the birthplace of chili peppers. But, that doesn't mean it's the home of hot sauces. In South America, you'll still find a lot of chili peppers cooked into the foods rather than as a separate item on the table.
Still, you really should give these sauces ago.
Apimentado – This is the sauce you get in Brazil though you'll find it in neighboring countries under different names. The type of chili used varies by country and region, but you'll always find them mixed with tomatoes and sometimes with olive oil and vinegar.
Scotch Bonnet Hot Sauces – In the Caribbean, they love nothing more than Scotch Bonnets. They're so widely used that we can call this a sub-sector of hot sauces on its own.
North America

–
 Ahhhh yes, we know all about these sauces, don't we? But where you live has a big part in what you understand to be hot sauce. Broadly speaking, there are two types of North American hot sauces.
Louisiana – You can make these hot sauces with just about any chili pepper you prefer. That means Cayenne, Habanero, or even Carolina Reapers. They also feature vinegar and a thickener. The name Louisiana doesn't make these hot sauces specific to this area; rather it refers to the Cajun and Creole methods of food preparation. You could try the Mad Dog 357 Hot Sauce if you want one of these sauces with a serious kick.
New Mexico – This name does have a little more to do with the area through the word new could easily be left out of it. These sauces use very little (if any) vinegar and, contrary to popular opinion, can be made with both red and green chilies.
And now, you may be wondering where Europe is on this list. The truth is that they don't have a whole lot of range though you will certainly find some fire in some Spanish dishes. Usually, you'll find the Europeans have borrowed liberally from the other areas presented. Crazy, right?