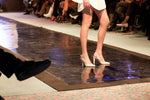 Supermodels - they're just like us, right?
Well actually while we're stuck in traffic at the In n' Out drive-thru dreaming of calling into work sick for the next 10 years, supermodels are strutting down the runway, wearing high-end fashions dreaming of….hot sauce on their omelets?
Supermodels are head over high heels about hot sauce and some have even professed their undying love for the spicy condiment. What's not to love? It's virtually calorie-free, can aid in weight loss by raising metabolism, and makes even a small bite of bland food taste dynamic!
Here is a list of Supermodels just like you who like it hot:
Chrissy Teigen: Confessed to being a "total hot sauce freak" in a 2015 Sports Illustrated Interview and is famous for her spicy chicken wing recipe.
Karlie Kloss: Told Bon Appetite magazine she loves her egg whites swimming in hot sauce. She also told Grazia Daily, "I put hot sauce on everything!"
Naomi Campbell: In a New York Times interview, Naomi Campbell ended the serious, in-depth interview with this…
Her bodyguard brought over her black bag. She pulled out a silver vial and placed it on the table. It looked like a fancy storage device for something illicit, but Ms. Campbell made clear there was no cause for alarm. "Hot sauce," she said, handing it to a tablemate. "Try some."
Gigi Hadid: "I'm down with a cheese and egg burrito with hot sauce, I'm into it," she told PopSugar Fitness.
Jamie Chung: Literally spilled her bag out for the Hollywood Reporter at Coachella and was revealed she proudly carries hot sauce in her purse.
Gisele Bundchen: Loves spicy foods and douses all of her favorites with hot sauce was revealed in a Celebrity Beauty Secrets book.
Kelly Killoren Bensimon: Former model and New York Housewife reality star penned a cookbook "I Can Make You Hot" featuring a bevy of recipes with hot sauce.