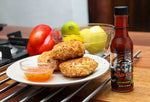 We're a hot sauce company from Massachusetts, so it shouldn't be a surprise that we're super excited to celebrate National Crab Day on March 9th.
It's a biggie for the Mad Dog hot sauce crew. We love crabs. Well, maybe we don't love them like we snuggle up to our pets, but we certainly love them on our plate. And, we're always on the lookout for the best way to add our hot sauce to favorite crab recipes. We've even created one using our Mad Dog 357 Silver Collector's Edition hot sauce (but, more on that in a minute).
The New England Connection
If you're American and you think about seafood, you probably first think of New England (though the Gulf of Mexico area may come a close second). And that's as it should be. We take our seafood seriously up here. Crab, lobster, clams, you name it, and we're fond of it. Crab recipes are the specialties of New England restaurants and home chefs. You're likely to find at least one on any renowned menu, and possibly quite a few more than that.
So what does that have to do with hot sauce? A lot more than you might think. In 1807, the first commercially available hot sauces were bottled in New England (in Massachusetts to be specific). And because crab has such a tender, buttery flavor, it's long been a tradition of the locals to spice it up with hot sauces (and super hot sauces like Mad Dog, at that).
The Benefits of Crab Recipes in Your Diet
Crab tastes a lot richer than it is. It's almost as if tender beef and melted butter were mashed together in the laboratory. And it's so delicious when served warm (as opposed to chilled in your maki rolls).
But, the crab doesn't carry all that bad stuff that you'd expect from a decadently rich-tasting food. Almost unbelievably, there are virtually no carbs (which have the worst rep at the moment) in crab, nor does this seafood carry a lot of fat (again, there's almost none). It's low in calories and super high in B Vitamins. So, you can feel good indulging in your favorite crab recipes, especially if you add your favorite Mad Dog hot sauce to the mix.
The Best Hot Sauce Crab Recipes
If you add hot sauce to anything, it's suddenly better. And crab is just one of those foods that hot sauce goes ever so well with. But, if you really want to indulge on crabmeat (without adding in all that extra fat that comes from the cream and mayo traditionally featured in crab recipes), then you've got to go for a good old fashioned crab boil. When you're ready to break the shell, just have that bottle of hot sauce handy (and your favorite veggies), and you've got a meal and a half.
When you want to spoil yourself (throw that diet out for a night, won't you?), you need to try our Mad Dog Crabby Cakes. It's one of the best crab recipes for you to make at home. It does take a little effort, but a lot less than you'd imagine. And, because they're baked instead of fried, we've managed to keep some of that extra fat at bay. If the Mad Dog Silver Collector's Edition hot sauce is a bit much for you, just substitute some of the original 357 sauce; it'll still blow your mind.