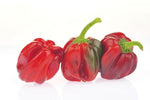 The last stretch of winter always seems the hardest.
It may not be the coldest time (though this year has been a bit crazy), but everyone is just so tired of the long nights and freezing temperatures. And, there aren't all those wonderful holidays to break the drudgery of brushing snow from your car twice a day.
Some people break the monotony of winter with big bowls of warming chili con carne, whereas others are busy themselves with creating the world's hottest hamburger. And, if you're battling the winter blues, then perhaps it's time you took a good look at that bottle of habanero hot sauce in your kitchen (or, more realistically, all of them.)
Beat the Winter Blues with Bright Red Habanero Hot Sauce
Your brain has immense control over the way you feel. Memories and mind associations can direct your overall mood. But, the way you think isn't the only reason you feel down during winter. Your brain needs certain chemicals created from exposure to sunlight. And, when you spend more time shivering, your mind spends a lot more time controlling your body's temperature, leaving you less time to focus on continued happiness.
The winter blues is a very real condition, and it's possible to beat it with the bright red of your favorite habanero hot sauce. The capsaicin found in habanero hot sauce also sends signals to your brain. First, it tells your brain that your mouth is under attack. And then, it triggers the release of endorphins to help you cope with all that pain. When you eat chilies or food laced with habanero hot sauce, you experience both the jolt of the immediate burn – and the rush you'd expect from skydiving.
Habanero Hot Sauce Cures the Effects of Winter Colds
Happiness is one thing – and a very important thing at that. But, that's not the only thing that habanero hot sauce can do. The capsaicin found in super hot sauces (and, of course, the chilies themselves) does wonders for the physical side of your body too.
You may have seen that it combats cancer and heart attacks. And it certainly does that. But, on a more immediate level, capsaicin also opens blocked nasal passages that are significantly more of a problem during the long, cold winter months. And the levels of capsaicin in super-hot habanero hot sauces also have an effect on blood flow throughout the body, increasing it so that you feel warmer everywhere – not just as your mouth burns. That's cool (or rather hot), and something just about everyone in the northern hemisphere can appreciate.
When You're Ready to Beat the Blues, You'll Want to Try this Habanero Hot Sauce
Super hot sauces are different from the milder sauces you'll see at most restaurants. Rather than cayenne peppers, super hot sauces use hotter pepper bases to create the burn you crave. And, it should come as no surprise that habaneros are a popular option. Our Original Mad Dog 357 is a habanero hot sauce. A little more surprising perhaps is the use of habaneros in the Mad Dog Ghost Pepper Hot Sauce. It may just be the base for the ghost peppers to play off of, but that means it's still a habanero hot sauce at heart.
And, now that you know there's a cure for the winter blues, isn't it time you pulled out that bottle of Mad Dog habanero hot sauce and experienced a little winter cheer? We certainly think so.