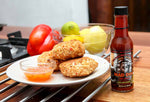 Crab cakes are much easier to make than you might think.
It's essentially dumping a bunch of ingredients into a bowl and squeezing them together. That is, of course, if you can get your hands on freshly shelled crab meat. If you need to do that yourself, you'll need to put in some effort. And, you can actually make these Mad Dog Crabby Cakes with the imitation crab meat as the recipe is very forgiving. But the real thing always tastes so much better.
And this recipe? Oh, it's the Mad Dog that takes it to the next level without needing too many ingredients. Bonus, right? Just make sure you've got a pair of gloves for shaping your crabby cakes, you don't want all that capsaicin on your hands – trust us!
We've also made this recipe easier by grilling the cakes instead of frying them.
Ingredients
2 pounds Crabmeat (you really should get the fresh stuff that's already been shelled)
1-2 teaspoons Mad Dog Silver Collector's Edition Hot Sauce (1 teaspoon might be enough for most)
1 medium Red bell pepper, finely chopped
2 stalks Celery, finely chopped
1 medium Onion, finely chopped
2 cups Mayonnaise
½ teaspoon Salt
2 large Egg, lightly beaten
3 cups Cracker crumbs (or bread crumbs, divided)
Preparation
Preheat the grill on your oven. Lightly grease a baking tray.
In a bowl, mix the crabmeat, Mad Dog 357 Silver Collector's Edition Hot Sauce, pepper, celery, onion, mayonnaise, salt, egg and 2 cups of the bread crumbs. Mix well, using your hands (please wear gloves or you'll be in pain). Form into large crabby cakes.
Place the remaining crumbs in another bowl. Dip each of your crabby cakes in the remaining crumbs so that each one is well coated. Press to keep crumbs on cakes.
Place crabby cakes on the prepared baking tray. Grill for 15 minutes. Flip crab cakes and grill for an additional 5 minutes. Serve warm with a slice of lemon and perhaps a dash of sweet chili sauce.