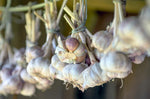 Stock up Your Sriracha! April is National Garlic Month
We know you love your Sriracha. No one is hiding their addiction for this wonderfully spicy sauce terribly well these days. But then, why should you? It's just so yummy. (Of course, we're a little biased towards the Mad Dog Reaper Sriracha Hot Sauce. But you know that right?) And, since April is National Garlic Month, we're certain it's time to add more of it to your meals. We would say add it to more of your meals, but we know you're doing that already anyhow.
The Health Benefits of Garlic
There's more to Sriracha than just the peppery fire that we enjoy so much. There's a huge amount of garlic in the mix (which you know if you've ever tasted this hot sauce). This smelly vegetable does a lot more than a ward of vampires and potential dates. It also does its fair sharing of keeping diseases at bay.
The garlic base of your Sriracha sauce:
Is filled with antioxidants,
Reduces blood pressure and cholesterol,
Its anti-inflammatory and anti-bacterial,
(Strangely) fights athlete's foot and eczema, and
Keeps the mosquitoes away.
Of course, it is best for using in the production of Sriracha hot sauce and keeping the vampires away. (The fear of garlic, in case you want to know, is alliumphobia.)
And Then There Are Chili Peppers
Just so you know, Sriracha is remarkably good for you – as far as condiments go. Not only is it brimming with garlic, but it has plenty of chili peppers tucked into every bottle. Of course, the hotter the pepper, the more of the capsaicin benefits you get (and perhaps that's why we love our Scorpion version so much!)
Chili peppers are known to fight cancerous cells, diabetes, obesity, heart disease, extreme headaches, and the common cold. Unfortunately, they do very little to stop vampires. But, chili peppers are usually excellent at keeping teenagers away – and as we've all learned in the past couple of years, vampires are most likely to be wherever teenagers are. Either way, it's a win if you think about it – but when you mix chili peppers and garlic (to make Sriracha), you might just remove both from your life. (Lucky you!)
The Rise and Rise of Sriracha
Since it's National Garlic Month, we know you want to spend as much time as you can enjoying this member of the onion family. And, it does seem as if you're doing it already. You can't go far without bumping into a bottle of Sriracha or spotting it on a menu (even fast food menus) these days.
But, might we just suggest you whip up one of these favorites using our Mad Dog Reaper Sriracha Hot Sauce? Eggs Benedict for breakfast perhaps? Or, a Lime and Garlic Chicken Main? You know you want it. And, since both these recipes are filled with goodness and vampire-fighting properties, you can enjoy them any month of the year – not just in April.