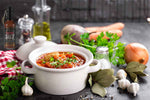 February 4th is a super cool day in the foodie world.
It claims two rather important foodie holidays. It's both National Homemade Soup Day and National Stuffed Mushroom Day. In other words, it's time to celebrate – with a dash of Mad Dog love, of course.
We're not exactly who's responsible for positioning National Homemade Soup Day on the calendar in February when National Soup Month falls in January. But, we don't mind when it happens; we're always happy to celebrate soup.
There are plenty of reasons you should learn a couple of soup recipes. For a start, whatever you make from scratch is always going to have more of the good stuff and less of the bad stuff than the canned variety. And by that, we mean that homemade soups (usually) have significantly less fat and salt than they do in cans – and fresher veggies too.
But, there's another reason to enjoy soup in general. You see, most people tend to over-indulge on the protein options on their plates. Portion sizes are just out of whack, and although they're slowly corrected from coast to coast, we're not there yet. Many soups call for less meat than usual or none at all. And that's super helpful if you're watching what you eat.
Looking for a delicious hot soup to enjoy on February 4th? How about the one you can whip up quickly and enjoy all year long? Mad Dog has you covered with a Ghostly Chicken Soup. If you've not tried this recipe yet, now's the time to make that happen. (All day long, in fact.)
National Stuffed Mushroom Day
National Stuffed Mushroom Day is an entirely different story. Stuffed mushrooms are party food most of the time (whereas homemade soup is for cozying up with a terrific book on a cold night). Even though stuffed mushrooms are designed for celebrating, mushrooms themselves offer so many benefits you might want to celebrate them.
Mushrooms are:
Rich in a variety of the B Vitamins
The only vegan, non-fortified source of Vitamin D
Full of anti-oxidants and may even slow the growth of some cancers
Able to help regulate blood pressure
Great a promoting satiety
A source of choline that helps you to sleep better – and promotes better memory.
Need another reason to enjoy stuffed mushrooms on February 4th? How about this incredible stuffed mushroom recipe? You'll flip for the fire we've included and you're likely to start craving them almost every day. We don't think that's a bad thing. Once you combine the health benefits of mushrooms and capsaicin, you've got yourself one deliciously healthy snack.
No matter which foodie holiday you celebrate on February 4th – or if you choose to go all-in and celebrate both – just know you've got plenty of Mad Dog love and support on this day. It's hardly National Hot Sauce Day, but we're still BIG fans.