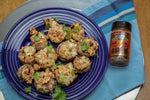 Sure, you might not get away with covering the entire turkey with your Need something savory, cheesy, and blazing hot!
We're not certain you'll need to look any further than this recipe which serves about 8 as an hors d'oeuvre. It truly has everything you've asked for – plus chorizo and mushrooms.

Sounds good, right? And, it gets better. These mushrooms are way easier to prepare than you thought they would be, plus we've packed them full with our Mad Dog 357 Habanero Pepper Puree. Yes, they're that good which means you definitely need to double the batch.
So that you can shove a whole order into your mouth before your party preparations even begin.
 Ingredients
1 pound Cremini mushrooms (or white button mushrooms)
5 ounces Mexican chorizo mince
1-2 teaspoons Mad Dog 357 Habanero Pepper Puree
4 ounces Cream cheese, softened
1 tablespoon fresh thyme leaves
3 ounces Panela cheese (or ricotta cheese), crumbled
Preparation
Preheat your oven to 400°F. Line a baking sheet with parchment paper and set aside.
Remove the stems from the mushrooms (gently to avoid breaking the caps). Place mushrooms upside-down on the baking sheet and set aside.
In a small skillet, add the chorizo and heat over medium-high heat. Sauté until cooked through. Transfer the cooked
chorizo
to a mixing bowl, add the
Mad Dog 357 Habanero Pepper Puree
along with the cream cheese and thyme. Stir to mix well, then spoon this cheesy chorizo mix into the cavity of each mushroom. Sprinkle over the panela (or ricotta)
cheese
, then place the baking sheet in the oven and bake for 18-20 minutes, until the cheese becomes golden and melty and the mushrooms have cooked through. Serve warm.