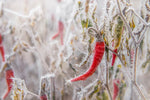 Chill and chili peppers may start the same way when you speak these words.
But, that's about all these things have in common. And they would like to keep it that way, thank you very much. If you want to enjoy either one (and perhaps both), it's best if you develop a few tactics to protect your chili peppers from the cold.
Chili Peppers Like It Hot
Just like the burning flesh, they hide underneath their skin; chili peppers want the temperature around them to be pretty close to blood-boiling. They'll take something temperate of that's all that's on offer. But, they are not even a little bit interested in frost - or worse – snow. That's a big problem for them especially when freezing weather combines with shorter daylight hours.
If you treat you chili pepper plants with respect (which, at the moment, means keeping them warm), they can continue to produce fruit until the end of November. They may even keep going year-round if they're given the right conditions. That will make both you and your chili pepper plants happy no matter what type of peppers you're growing. It's truly just a matter of giving them what they need, and warmth is a crucial element of that.
Chili Peppers Want a Winter Home
You can, if you like, just leave your chili pepper plants to fend for themselves. That's between you and your plants – and we won't get involved (and we'll still keep making the Mad Dog for your capsaicin craving). But, your chili peppers want a winter home so that they can continue to thrive and produce their incredible fruit. Is that so much to ask?
However, what you can do for your plants ultimately depends on where they live now. If your chili pepper plants are in a pot still, you're in luck. All you need to do is bring them inside and position them in a room that gets plenty of suns. It's only temporary, of course, but it does involve some preparation.
If your plants have their own special outdoor bed, then you'll want to look at frost blankets. These incredible pieces are designed to trap the heat from the ground, effectively creating an environment that's between 4-8ºF warmer. And that will certainly help your plants – unless you live in an area that's covered in snow for a long, dark period of winter. If that's the case, you can't bet on your chili pepper plants making it. Sorry. Although you shouldn't despair, Mad Dog can feed your capsaicin craving all winter long, and we're happy to do so.
And remember that if you're just planning your chili pepper garden, now's a great time to get everything in order. Your seeds will take off best when started in window trays inside before the frosty weather starts to ebb. Of course, you shouldn't worry too much if you don't have a green thumb, we're constantly dreaming up new flavors of Mad Dog to keep your taste buds happy.