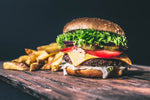 Caution! This post will make your mouth water and maybe even a little hot!
We've scoured America for the spiciest and tastiest hamburgers that our taste buds are jumping up and down for. From Coast to Coast - here is a list of the best of the best, let us know if there is one in your hometown we need to add!
Animal, Los Angeles - The Boner Burger
First things first this hamburger's unique trait is that is it held together by good-ole fashioned toast! In between the toasted marble rye bread you can find oozing jack cheese, caramelized onions, spicy poblano chiles, and a special 420 sauce. Are you licking this post yet?
Huxley Restaurant, San Francisco - The Hot Mess
This is top secret, okay. Like only Very Important Burger Lovers (VIBL) can know that this is a secret menu item that you have to ask for. This burger is a spicy take on their popular Wesburger but instead substitutes pickled jalapeños for regular pickles and coats both buns in homemade hot sauce. Shhh! It's a secret!
Temerario, New York City - Temerario Burger
While the burger itself holds its own in the spicy department, the unique heat of this burger is the black brioche bun which gets its distinct color from chile ash! The rest of the burger is a divine explosion of flavors with a short rib patty, Mansano cheese, and a Negro Modelo Morita glaze (yes the beer!, but also made from the Morita chili pepper). Also served with super spicy fries, Bonus!
Goodfriend, Dallas - The Fury Burger
If you are looking for danger in your hamburger, look no further. While this burger may look completely innocent, the real tasty terror is hidden under the mound of cheese. The staff even needs to wear gas masks while making this burger. The meat is sprinkled with ground ghost chili powder. The chef adds locally grown habanero and scorpion chilies (both dried and fresh) to make an incredibly spicy sauce that is smeared onto the bun. Oh, and they add homemade horseradish pickles just in case we haven't been sweetly tortured enough. The result is a kick you in the teeth burger, but one that satisfies your devil of a soul.
 The Fifty/50, Chicago - The Hell Burger
While this burger is a food lover dream on its own, the hot and spicy factor gives it that je ne sais quoi we've been looking for. In addition to the double slices of pepper jack cheese, you can add to your tasty burger habanero sauce, roasted jalapenos, and homemade hot sauce (all served on the side) for you to kick up the heat how you like it
If you can't make it to any of these daringly hot and tasty burger joints, try a little hot sauce on your burger at home (add jalapeños and pepper jack cheese for an extra kick). We recommend Mad Dog 357 Pure Ghost Pepper Hot Sauce.