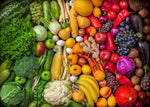 You've probably heard the importance of eating fruits and veggies
Or even about adhering to the old food pyramid we learned about in school, but there's something out there now called the five-a-day. That's the theory that people who eat five servings of fruits and veggies every day are less likely to die of cardiovascular disease, cancer, and respiratory disease. The problem is, not everyone seems to understand what counts and what doesn't count for your five-a-day. According to a recent study out of Britain, a lot of people are confused about the best types of fruits and veggies and their nutritional content. This can make it harder to make good, healthy food choices.
One thing people need to have in their diet is fiber.
Eating fiber-rich foods helps make you feel fuller longer, plus it can help lower your risk of type 2 diabetes, stroke, heart disease and bowel cancer. Lentils, kidney beans and chickpeas are all good sources of fiber, plus they also provide protein. As an added bonus, they're relatively inexpensive to buy and serve up at mealtime. Red peppers are especially high in fiber, too. That's a good thing if you want to get more fiber in your diet, plus you want to try out different levels on the heat scale. There are all kinds of peppers out there to experiment with, from milder peppers to earth scorching hot peppers that are sure to set your mouth on fire!
Along with peppers, a lot of other different types of fruits and veggies count toward the five-a-day
Including green leafy vegetables and other non-starchy vegetables like broccoli. Oranges and citrus fruit can also be good for your diet, as can carrots, which are rich in beta-carotene. On the other hand, starchy vegetables and fruit juice won't necessarily give you same health benefits.