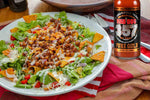 Need a quick and easy salad with all the flavors you love?
Need it on the table in a matter of minutes? You'll get that plus all the fire you've come to love in our Mad Dog 357 hot sauce recipes. Yes, it's everything you've ever wanted. Well; it's close.
If you need to add some bacon to this, we totally get it.
Ingredients:
Serves: 4
You'll need:
2 tbsp. butter
2-3 tsp Mad Dog 357 Pure Gold Hot Sauce
2 cans garbanzo beans, rinsed and drained
½ cup BBQ sauce
1 head Romaine lettuce, torn
1 small package cherry tomatoes, halved or quartered
1/8 cup Grana Padano cheese, grated
½ red onion, sliced
1 cup flat green beans, halved
1 handful chives, sliced
½ bag tortilla chips
Ranch dressing, to taste

Preparation
Melt the butter in a medium skillet over medium heat. Add the Mad Dog 357 Pure Gold Hot Sauce along with the garbanzo beans and BBQ sauce. Cook, stirring frequently until the sauce thickens, about 5 minutes. Remove skillet from the heat and set aside.

Meanwhile, assemble all the remaining ingredients on a large serving plate. When the garbanzo beans and sauce are ready, add to the salad and serve with more Mad Dog 357 Pure Gold Hot Sauce on the side.