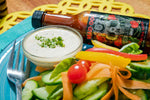 There will surely be a salad or two at the 4th
 

of July cookouts you attend this year.

And this is exactly the salad dressing you want to go with them. Oh hell, why wait – and why wait for a salad at that. This dressing is delicious with grilled veggies and you may just find you need to spread it all over pieces of toast before making sandwiches. It is super addictive though – so go ahead and make a second batch from the start.
You'll thank yourself as soon as you get a taste of it.
 Ingredients
1 teaspoon Mad Dog 357 Reaper Sriracha Sauce
1 cup Mayonnaise
1 clove Garlic, minced
1 tablespoon Red wine vinegar
1 tablespoon Water
½ teaspoon Paprika
½ teaspoon Oregano
1 teaspoon Dijon mustard
½ cup Pickles, chopped
1 teaspoon Worcestershire sauce
2 teaspoon Sugar
Pepper, to taste
 Preparation
Place the Mad Dog 357 Reaper Sriracha Sauce and all ingredients except for pickles in a bowl and set aside. Finely chop the pickles then add to the remaining ingredients and mix to combine. Serve with salads, or as a dip for veggies or chips.