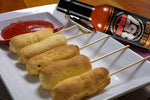 You know you want these.
It's the flavor of your childhood with the perfect balance of heat in the corn dog coating. And, it's surprisingly easy to get it right. Less than half an hour is standing between you and these fiery sticks.
Of course, we think pairing these with a cold beer is way better than the Kool-Aid you would have had way back when.
Ingredients 
1 package (12 oz.) Hot Dogs, halved
½ cup All-purpose flour
½ cup Yellow cornmeal
2 tablespoons Sugar
2 teaspoons Baking powder
Salt and black pepper, to taste
1 teaspoon Mad Dog 357 Pure Gold Hot Sauce
½ cup Milk
1 large Egg
1 cup Vegetable oil
Preparation
Thread the hot dogs onto skewers and set aside.
Combine the flour, cornmeal, sugar, baking powder in a large bowl and season to taste.
In a separate bowl, whisk the Mad Dog 357 Pure Gold Hot Sauce with the milk and egg. Pour this into the bowl with the dry ingredients and stir until combined.
Heat the oil in a wok or a large skillet over medium-high heat. (Really, a wok is perfect for this.)
Then, coat the dogs in the fiery corn mixture (you may want to put on some gloves and use your hands to help the process along).
When the oil is hot, add the corn dogs to the wok and cook, turning as needed for 2-3 minutes, until crispy and golden. Remove and drain on a paper towel before serving with mustard (or ketchup) mixed with a little more Mad Dog 357 Pure Gold Hot Sauce.