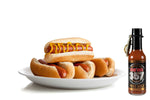 With baseball season around the corner, you're probably craving a hot dog right about now.
You know, all juicy and covered with all the yummiest toppings you can squeeze into a bun… and then to shovel into your mouth with your fingers because you couldn't possibly waste a single morsel.

Fair warning: you shouldn't pick up any of the fallen bits from our hot dogs with your fingers; they're scorching in the sense that you'll be in some pain.

But, you should totally get your act together and plan to make some of these hot dog recipes this week. Each one is decadent and covered with the best of our Mad Dog 357 Hot Sauces. Just take a look.


Crazy Hot Mad Dog Hot Dogs


Scorpion Scorching Hot Dogs | Mad Dog 357 Scorpion Hot Sauce
Reaper Nachos Mad (Hot) Dogs | Mad Dog 357 Reaper Pepper Pods
Fire on a (Mad Dog) Stick | Mad Dog 357 Inferno Hot Sauce
Cheesy Mad Dog Dipping Ring | Mad Dog 357 Gold Edition Hot Sauce
Fiery Double Dog Grilled Cheese | Mad Dog 357 Liquid Fire Hot Sauce
Mad Chili Dogs | Mad Dog 357 Original Hot Sauce

Ready to change it up a bit with better sausages? Don't worry; you're covered there too. Pick your sausage or maybe your hot sauce and get cooking.


Super Scrumptious, Spicy and Saucy Sausages


Mad Dog Sausage and Pepper Polenta | Mad Dog 357 Scorpion Pepper Pods
Mad Dog Mustard, Sauerkraut, and Beer Brats | Mad Dog 357 Original Hot Sauce
Brats in a Mad Dog Blanket | Mad Dog 357 Naga Morich Pepper Puree
Mad Dog Beer Cheese Brats | Mad Dog 357 Pure Ghost Hot Sauce
Grilled Sausage with Fiery Peppers and Onions | Mad Dog 357 Silver Edition Hot Sauce

Need some new sauces for hot dog season?


We totally get it. Whether you want a bottle you can take to the ballpark or you've found a Mad Dog hot dog recipe you'll make all season (you can, after all, catch the best games on TV)… our Dogs can help you make the most of your dogs.


Stock up your sauce supplies now