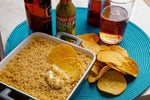 Filling chili poppers can be a whole mission.
But, you really don't need to go through all of that to get the same gorgeous flavors at home. In fact, we suggest you don't even try it. Rather make this recipe instead. It will fill you with the same sort of goodness, and it will ensure your guests are happily full and delighted – no matter what the score. Plus, it takes almost no energy to make.
Now that's a bonus.


Ingredients:

1 bottle Mad Dog Green Amigo Hot Sauce
8 ounces Cream cheese, softened
1/2 cup Sour cream
1/2 cup mayo
1 cup Mozzarella cheese, grated
1/4 teaspoon salt
1/8 teaspoon Black pepper
4 tablespoons butter, melted
1/2 cup Breadcrumbs

Preparation

Preheat oven to 400ºF. Set out a small, oven-safe ceramic baking dish.

In a mixing bowl combine the Mad Dog Green Amigo Hot Sauce, cream cheese, sour cream, mayonnaise, cheese, salt, and pepper. Mix well, then spread this mixture in the bottom of the baking dish.

In another bowl, mix the butter and breadcrumbs together and then sprinkle mixture over the cream cheese and Mad Dog mix in the bowl. Place in the oven and bake until golden brown (about 15 minutes). Serve with chips and perhaps a drizzle of hotter hot sauce.