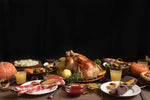 There are many brilliant aspects of Thanksgiving.
For a start, most people get a few days off of work, and even if you're traveling through the cold to get somewhere, that long weekend always feels so good (especially if you're headed home – or at least to see family). Then, of course, there's the parade, the game, and the food. In short, there's usually something for everyone (and gifts aren't necessary).

But, there's also nothing like discovering that YOU need to bring something (or host) a few days before the big event. That's problematic at the best of times. But adding to the feast at Thanksgiving is really troublesome.

Lucky you. We've got some ideas you can use to pull together a Thanksgiving feast with a Mad Dog twist.

Stuffing Doesn't Actually Need to Go in the Bird


Stuffing a turkey is part of the Thanksgiving traditions in most parts of the country. It feels like part of the ceremony of the holiday. But, it's really not mandatory. You can cook stuffing in the oven (or slow-cooker) totally separately from the bird; this could be why it's referred to as "dressing" not "stuffing" in some areas.

That makes it super easy to Mad Dog this side dish. You can use two (or more) baking dishes to accommodate the kids (and those that eat like children without the delicious sting of capsaicin) and for the chili heads at the table. Simply make your favorite stuffing recipe, add a small amount of milk (if you're not stuffing the turkey) and some Mad Dog hot sauce. (We recommend a teaspoon or two of our Pure Ghost hot sauce.) Bake according to the original recipe's suggestions.
Mad Dog's Cooling Cranberry Sauce?

You never thought that Mad Dog could find its way into a cooling cranberry sauce, did you? This year, you'll need to think again. Roughly chop about 1½ pounds cranberries (we actually recommend using your food processor) and 4 oranges. Heat the fruits in a large pot over medium heat. Add about a ½ cup sugar (more or less, to taste), a ½ cup of red onion, and a dash or two of your favorite Mad Dog hot sauce. Stir to combine and allow the fruit to break down slightly. The sugar should be completely dissolved before you remove it from the heat. Stir in ¼ cup fresh mint leaves (roughly torn), then cover and chill for at least two hours before serving.
Looking for More Ideas?

We've got plenty of incredible dishes on our recipe blogs with everything from potatoes to dips to appetizers. Maybe it's time you took a look at these flavorful dishes; they could just save your Thanksgiving. (Okay, maybe we don't want to push it that far, but you know what we mean!)


Happy Turkey Day from the Mad Dog Team!