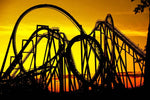 Last year, a foolish teen chucked a packet of hot sauce at a roller coaster.
Yes, while it was roaring along its tracks. It tore open and flooded the eyes of at least one rider. And then the police were called to Cedar Point Amusement Park in Sandusky, Ohio. Because, well, hot sauce doesn't belong in your eyes – as everyone knows.

Locally the incident was dubbed as the Hot Sauce Massacre; in part, because the teen also stomped on a slew of packets while waiting in line – and why would you waste such delicious fare.

Given that the rush of a roller coaster is similar to the one you get when consuming hot sauce, we think the obvious thing to do with those hot sauce packets (even though they were rather mild sauces from an Asian fast-food chain) was to eat them.
It simply makes sense.

If the high you get from either the roller coaster or eating hot sauce is so good that you want to do either, you may as well do them together.

Just think about the benefits for a second. First, if you're standing in a painfully long line waiting for a few seconds of joy on a speeding metal train, you may as well enjoy those moments. And, it's much easier to do when you've got a super hot sauce high and the rush of endorphins that go with it.

For this, we strongly suggest carrying a bottle of Mad Dog 357 Original Hot Sauce (which is conveniently sold in travel sizes as well as the standard 5-ounce bottle). You may also want to give our Pain on a Chain a try. Simply pack some of the super-hot chili powder into the capsule, close it and attach it to your key chain.

Second, if you want to double down on the rush you get from a single (and way too short-lived) roller coaster ride, you can slurp or sprinkle your favorite chilies within 10 minutes of getting on the coaster. You'll get the rush of a lifetime and spare the eyes of innocents who already put in their time in the line.

Isn't it time you stocked up for summer fun?

There's nothing like a hot sauce high, even if you can't make it to the coaster this summer. In fact, we suggest stocking up your Mad Dog hot sauces either way.