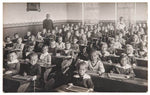 Say what? Well, why not?
You may not think there's any link between hot sauce and the back-to-school frenzy that hits the country in August… but, we see hot sauce in everything. And, there's always a reason to add hot sauce to your list (whether that's your to-do list or your shopping list).
Over here at Mad Dog HQ, this is how we see the back-to-school season and hot sauce making the most of each other.
Shopping sucks. Whether it's for you or your kids, this idea that you need to sort out new supplies and clothes for the first few days of school is stressful – whether you indulge or try your damndest not to give in. And if the idea on its own gives you a headache or hives, you'll need something to get you through the experience. Yes, you can hot sauce and drive. Plus, you'll love the hot sauce high you'll get.
Survive the late nights. Again, it could be your late-night study sessions that you need to sort out – or it could be the projects you know your kids will leave until the last minute. Either way, you'll need a boost to keep you going until everything is on track again. You probably thought the answer was coffee, but we can totally one up that.
Beat your budget. College kid? Spend a small fortune at those back-to-school sales? Just kinda broke? However you dice it, super hot sauce is here to save you and your budget. All you need to do is a plan on covering bland or tiny-portioned meals with Mad Dog hot sauces. You'll get the flavor. You'll feel full. And, you'll have spared yourself the struggle that creeps in every time you need to eat on a budget.
Okay, we know we're stretching it a bit, but super hot sauces are true lifesavers at any time of the year – and they'll certainly help you keep summer alive longer. At the very least, you can count on better meals and all the fire you can handle (and perhaps some that you can't cope with).
Ready to add Mad Dog to your back-to-school shopping list?
At Mad Dog HQ, super hot sauces are among the few items which genuinely deserve to be on nearly every back-to-school shopping list. Order a few today, and you'll see exactly what we mean.