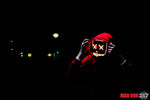 First, let us start by telling you that we're not really going to enter the fray.
We're just not going to do it.
But, we are going to state the obvious; it's very nearly impossible to enjoy Mad Dog's super hot sauces with a mask on. You really do need access to your mouth to savor each delicious drop. That's not to say you can't make a mask with a mouth opening, though that seems both extreme and counterproductive.

In saying this; we're not telling you to take off your mask in public. We're simply stating the obvious. You need to be able to reach your mouth to feed your belly.
And, there is another side to this story.
Once you've indulged in a little of your favorite fiery hot sauce, that mask might come in handy. It's really useful for hiding that little bit of slobber you can't control. And, if you tend to tear up at the thought of thousands of Scovilles, you might enjoy not needed to wipe your eyes. After all, you've probably smudged a speck of Mad Dog all over them.
Should You or Shouldn't You Wear a Mask?
So, on the one hand, masks are useful and on the other, they make it tough to eat. Now, what do we really think about masks?
We're still not saying.
All we're suggesting is that you should order a stockpile of Mad Dog super hot sauces, which you can enjoy at home – on any of your favorite foods, without worrying whether it's time to take your mask off or put it on.
We've made that even easier for you to do with our flat rate shipping – and free shipping on orders over $50. It'll be delivered to your door and you don't even have to put on a mask to bring the box inside. How great is that?
Now, mask or no mask, isn't it time you
lived life to the hottest
?
(Incidentally, the answer is always yes, unlike the possible answers to the mask debate.)