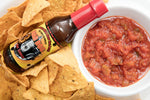 Can't make it to the stadium?
These salsas will still make you smile!
It's a strange, strange world when sports are played in a bubble without spectators, isn't it? Even when you normally catch the game on tv at your local sports bar, the whole situation just feels a little wrong. (Of course, most of 2020 has been terribly off-kilter, hasn't it?)

While you can't pick up your favorite walking taco or chips and dips at the stadium, you can still find yourself with a smile seared into your face with these scorching salsa recipes. Make them now to make watching sports at home that much better.
Start with Super-Easy Salsas
Everyone needs an easy salsa recipe to have on standby. As the creative crafters of the world's hottest hot sauces, we've got a few on hand. These are so easy, in fact, that it's nearly impossible to screw them up.

You can control the heat, or switch up your sauces with whichever Mad Dog super hot sauce you currently have in the kitchen. Just enjoy the burn with these babies:

● Super Easy Fiery Salsa made with Mad Dog 357 Original Edition Hot Sauce
● Naga Salsa crafted with Mad Dog 357 Naga Morich Pepper Puree
Update Your Salsa with New Flavors
Now that you've found your staple salsa (you know, the one that goes perfectly with queso or refried beans), you may want to consider switching things up with new ingredients and fresh flavors.

Don't worry, no one is asking you to sacrifice any of the fiery heat you've come to expect from a salsa recipe. We're only suggesting trying new things; you'll never know when you'll find your new favorite. That's exactly what happened to us when we stumbled on this Scary Artichoke Salsa filled with Mad Dog 357 Ghost Pepper Hot Sauce.
Don't Stop Your Salsa at Chips and Dip
One of the best parts of watching sports at the stadium or the bar is easily the food. You know you can't resist a stadium burger or loaded nacho platters, even when you know you should. Whether they're the vehicle used to get your favorite salsa to your face - or you think super hot salsas are just the finishing touches - we've got you covered with several salsa-esque recipes.
Our current faves are easily these better-than-stadium-food recipes:
●
Boomslang Double Nacho Cheeseburgers
brimming with Mad Dog 357 Boomslang Hot Sauce
●
Reaper Loaded Nachos
made with Mad Dog's Reaper Peppers
So, no matter how strange sports are at the moment, there's no reason at all to miss out on super-hot salsas that'll make you smile - even if there's no one around to see you. (Which, given the crazy levels of heat, might just be a good thing.)