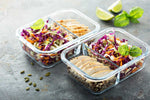 When we're hungry, we turn to our very own recipe blog to look for ideas
Then we turn to an old favorite or scratch around for something new to make. But, we get the appeal of meal prepping – and meal kit subscriptions. Not everyone has the time. And making food at home does take time. You need to choose your recipes, head off to the shops to pick up ingredients, and then you still need to make your meals.

When you make the switch to meal kits, you cut a whole load of this time out of the equation.

However, there's one thing you need to remember… hot sauce. Specifically, you'll need super hot, super flavorful hot sauce – exactly like Mad Dog 357 makes.
With a meal kit, you may make something amazing… or…
There is a hell of a lot of pros to meal kit cooking. It's more than just the time you'll save; many people also save a bucket load of money. When you're only buying what you need, you're not throwing extras away or racking your brain to make a plan with leftovers before the food goes off. Moreover, you won't need to buy a whole packet of rice if you only need a cup.

See? Benefits.

But, if you're working with meal kits in the kitchen, there are still things you'll need to buy. For a start, you'll probably be on your own as far as olive oil and salt go. (Don't worry; any good meal kit company will give you a list of what's needed.)
Super hot sauce is critical for meal-kit cooking


Hot sauce, however, is even more important than cooking basics like olive oil or butter.

Every recipe you make is something of a gamble. Moreover, there's no guarantee you'll get it right. Either way, you'll need hot sauce (preferably super flavorful, super sexy hot sauce) to make it all better. It's a solid strategy for anyone, anywhere; but, it's especially useful when you never know what you're going to get.

And, let's face it. Most people can't handle the heat the way you can. So, even if you get a spicy option or your meal kit company adds a small pack of hot sauce to a meal, you know, right now, without even looking, that it will never be hot enough. Never. Not even close.

You're in luck. You've come straight to the home of the hottest hot sauces, and you can pick your favorite or choose your heat limit for something new. It'll go straight to your home (or whatever address you choose), so you can add it to your meal kit plan – or those moments when you actually have time to select the meal you want most.

Ready to take your cooking to the next level?


Whether you're looking to save time or money, whether you order meal kits or plan your own meals, there's truly nothing like a super hot sauce to take things to the next level.