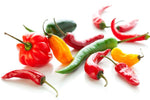 Now, a whole month of food days dedicated to the all-important pepper?
That's a serious celebration. And, November is National Pepper Month. That's a party – and a damn fine reason to eat your way through the month, filling it with fabulous facts of peppers and (far more importantly) the delicious smell of chili peppers cooking in every meal.
Need a fun pepper fact to start your month of celebration?
How about the fact that the first commercial chili pepper sauces were bottled in Massachusetts. If you didn't know, that's where we're from too. Or, you can consider the number of TV shows and movies we've been featured in over the years (from Friends to Legally Blonde 2).
Plan to spend your National Pepper Month more academically inclined? You can always study the routes Columbus used to deliver chili peppers from the New World to the old. This should lead you on a wildly fantastic trip down the rabbit hole when you consider that the delicious joy we now know as chili peppers once tasted like black pepper spice. (It's difficult to believe, isn't it?)
Or, you may want to spend your days figuring out the best spelling for chili peppers. Is it chile, chili, or chili? And, if you dig deeper, is it peri-peri or pili-pili?
But really, that's not the way we're planning to spend National Chili Month. We plan on enjoying tastings with our friends and washing down some of our newest recipes with deliciously cold beers. After all, we're 25 years old now, and we think it's time to celebrate our anniversary.
Looking for more ideas, recipes, and tips to make every day of National Pepper Month a success? We suggest you take the time to like our Facebook page. You'll be the first to know what's happening in the hot sauce world when you do.