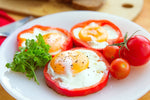 If you want to start your day off right, consider adding a little extra kick to your breakfast.
Eggs in the morning are an easy way to get some lean protein in your diet, but you don't have to stop there. If you sprinkle on some cayenne pepper or a little chili sauce, you're not only topping off your breakfast with some extra flavor, but you're also potentially adding in some key health benefits.
 The capsaicin in chili sauce is thermogenic.
In other words, when you consume capsaicin it helps raise your body's temperature and you expend more energy. It can also help suppress your appetite and make you feel full so you're less likely to want to overeat. If you're having a hard time not snacking throughout the day, try topping your morning eggs with cayenne pepper. It can help control your cravings between meals. Not only will you likely not feel hungry, but even a small amount of cayenne pepper mixed in with food can help speed up your metabolism and potentially help with weight loss.
 If your New Year's resolution was to lose weight, or even just to be a little healthier, this is a good way to help attain your goals without necessarily giving up all the great flavors you love. After all, hot peppers are a great way to add a little kick to any meal, no matter whether you want to lose some weight or not. Luckily, the pepper heat scale is full of plenty of great choices, no matter whether you want to start low on the spice scale or you're ready and willing to really heat things up. From a splash of hot sauce to extremely hot pepper extracts, it's easy to put your taste buds to the test, and potentially even give your diet the kick start it needs from morning 'til night.