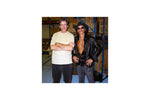 Dedham, Massachusetts, June 1, 2002 - Joe Perry has rocked many a world in his 30+ year career as Aerosmith's lead guitarist. Now Joe has teamed up with Ashley Food Company president David Ashley to rock the world of a whole new audience, hot sauce lovers! Yes, it's true, Perry's newest #1 hit is "Joe Perry's Rock Your World Boneyard Brew Hot Sauce". With a mystical flavor as memorable as its moniker, the Boneyard Brew will surely entice the culinary enthusiast in your family. "What gives Joe Perry's Rock Your World Boneyard Brew Hot Sauce its truly distinctive flavor is its key ingredients" - fresh Habanero peppers, tangy fresh squeezed lime juice, zesty onions and garlic, Chipotle peppers, fresh red bell peppers, and red wine vinegar to create a delicious blend that's perfect for dipping, chicken and pork dishes, marinades, Mexican food, fish and shrimp recipes.
Founded in 1991, Ashley Food Company has quickly earned an international reputation for high-quality products made with only premium, all-natural ingredients, hand measured and cooked to perfection. It's this attention to detail and quality care that caught the attention of Joe Perry, a hot sauce aficionado. The Axeman has been involved with every step of development; from the way the sauce tastes to the type of bottle and packaging concept. To Joe, cooking mirrors rock and roll. Says Perry, "if you' re gonna play, play it loud. If you're gonna cook, cook with fire!!!!" Words to live by. Perry admits that the first batch of Boneyard Brew is only medium on the heat scale. But fear not firebreathers, in the pipeline is another version that will definitely be hotter and more painful (though this version is a great everyday sauce).
The Sauce made its national debut alongside its canine cousins, the award-winning MAD DOG products at the Fiery Food Show, March 1-3,2002 in Albuquerque, New Mexico.