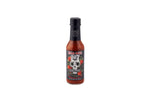 SUDBURY, Mass.Nov. 25, 2014 /PRNewswire/ -- Ever tasted a dash of Sriracha and wished there was a lot more bite to this delicious sauce? It has finally happened. The folks over at Ashley Food Company have mixed their incredibly successful Mad Dog range with the popular Sriracha sauce. The result, Mad Dog 357 Reaper Sriracha Sauce, is a powerful mix of an incredible burn with the wonderful sweetness that only chilies and garlic can create.
Known for their award-winning hot sauces, Ashley Foods were not ready to pass up the opportunity to blend a new, ridiculously fiery sauce. But when you want to transform expectations in the hot sauce market, you have got to think outside the box, or rather outside the pepper. So, they turned away from the milder, more traditional chilies and went straight for the big one. The Mad Dog 357 Reaper Sriracha Sauce includes the world's hottest pepper, the Carolina Reaper. This sauce is not meant to tiptoe across your tongue the way other Sriracha sauces will do; this one will pounce. And you won't need to add a lot to get that effect either.
According to David Ashley, the founder of Ashley Food Company, "I've always appreciated the small kick that comes with Sriracha sauce, but it was always the flavor of the garlic that struck me. It's difficult to get chilies to release their sweetness when they are brimming with capsaicin, and that's the beauty of Sriracha." But, obviously, Ashley Foods wanted to add a Mad Dog bite to go with that kick. "It wasn't enough just to add in a bit more bite; I wanted to make this Mad Dog Sriracha Sauce truly powerful. I went straight in for the reaper pepper. This Sriracha is intense, while still retaining the goodness of more traditional Sriracha recipes."
The Mad Dog 357 Reaper Sriracha Sauce is a brand new edition to the Mad Dog family of extreme hot sauces, extracts, and oils. All of the Mad Dogs are hand measured, and recipes are perfected before release. "We spend a lot of time crafting our sauces," says Ashley. "Some recipes take years to get right. But it's worth it when you finally hit the mark. This Sriracha sauce is unique – and everything we wanted it to be." Not only does it boast the world's hottest chili peppers, but it's also got all the quality, flavor and fire that you would expect from a Mad Dog hot sauce.
David Ashley founded the Ashley Food Company in 1991. But Mad Dog was born five years earlier in David's Brighton, Massachusetts kitchen. Glowing reviews and multiple national hot sauce awards followed the development of their hand-crafted artisanal Mad Dog sauces. The acclaim came with collaborative inquiries from rock stars Joe Perry of Aerosmith and Bob Weir of the Grateful Dead. Together, they produced products such as Joe Perry's Rock Your World Boneyard Brew Hot Sauce and a line of Wok Sauces with Bob Weir. The Ashley Food Company still uses only the finest all-natural ingredients, importing peppers and spices from all over the world as well as growing them locally for the hottest sauces you can sauce you can stand – and some that are much hotter than that.