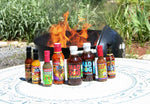 David Ashley Brings the Heat
Christian Science Monitor - June 27, 2007
By Jennifer Wolcott | Correspondent of The Christian Science Monitor
Never before have I tasted hot sauce off a toothpick. But when my mouth caught fire 10 seconds after tasting "Inferno," one of the hottest of hot sauces in the world, I understood why David Ashley, maker of Mad Dog hot sauces, had urged me to sample his sauce with a toothpick rather than the plastic mini spoon I'd used to taste his other, milder sauces. He also insisted – in a stern but kind tone – that I place the toothpick in the center of my tongue, by all means avoiding my lips and the tip of my tongue. He also placed a tall glass of milk in front of me, explaining that a swig of milk is the best way to cool off the burn.
He's done this before, I realized. I wasn't his first victim. There must have been some hapless tasters in the past who had pursed the toothpick between their lips and regretted it. Ah, yes, I noted: Each of his colorful, playfully self-illustrated sauce labels features a warning. Some are light-hearted ("Not for pussycats"), and others downright dire: "Warning: This sauce is very hot – use it at your own risk."
"What other business allows you to torture people for a living?" he jokes.
"Inferno" is not even the hottest of Mr. Ashley's line of 15 bottled sauces, which he launched in his kitchen in 1985 at the urging of friends who couldn't get enough of his homemade barbecue sauce. He also produces a sauce dubbed "357" for its 357,000 Scoville heat units – a scientific grading system for the heat intensity of chili peppers. That's a big leap from Inferno's 89,000 "Scovilles," as industry insiders call them.
Though he's turned on the heat since his early days at the stove, Ashley's favorite is his more tame "Green Amigo," a blend of habanero peppers, onions, garlic, cilantro, vinegar, and lime juice, which one can eat by the spoonful. "It's an everyday sauce that's great with anything, especially eggs," he says.
But as long as the market demands tongue-scorching sauces like 357, this self-described chief alchemist and founder of Ashley Food Co. plans to deliver. "It doesn't have to be hot to be great," he says. "But because lots of people want it hotter and hotter, I respond to that. I have to go where the market goes."
Already this year his company has sold $100,000 worth of Mad Dog 357: The demand for heat shows no signs of cooling.
Ashley says it's partly just a "macho thing," where people want to show how well they can handle spicy blends of habanero, jalapeño, or Scotch bonnet peppers. The popularity may also have something to do with consumers' heightened tolerance for highly spiced foods as a result of increased world travel and exposure to ethnic cuisines at home, where the restaurant scene has become more diverse than ever.
Whatever is driving demand, responding to the market has served Ashley well over the years. When the hot-sauce trend was really sizzling in the 1990s, he was selling to about 2,200 stores worldwide. He now sells through 200 large distributors, not stores, but overall it amounts to a slight decrease in sales. Ashley attributes that to "a funky economy" and also his shifting priorities. In addition to running his own business out of his basement in a Boston suburb, he has a wife (who can't stand hot sauce) and a 9-year-old son (an avid fan). He's spending more time at the baseball field these days – but has no plans to shelve the sauce.
His eyes grow big when he talks about ideas for the future, such as a mellower line that might include dipping, glazing, and marinating sauces.
Ashley doesn't have a culinary school degree. His entree into the food world was less conventional. In 1976, his then-girlfriend Alice Brock asked him to run Alice's Restaurant (of Arlo Guthrie song fame) in Stockbridge, Mass. It was during his short but grueling stint there, says Ashley, that he learned the value of cooking with fresh, natural, high-quality ingredients. Ashley says he's scoured the globe for the best vinegar, tamari, herbs, and spices.
Cook's Illustrated Magazine crowned his barbecue sauce the "Original Best in the USA"; Southern Living called the same sauce the "Best Bottled BBQ Sauce." In 2002, his Mad Cat Hot Sauce garnered First Place, Habanero Hot Sauce, at the Scovie Awards hosted by Fiery Foods & Barbecue Magazine. He has even collaborated with rock stars, most recently advising Aerosmith's Joe Perry when he launched his own hot sauce, and Bob Weir of the Grateful Dead with his line of wok sauces.
But he says he no longer feels the need to chase after awards, hobnob with rock stars, or travel the globe. His favorite source of herbs and spices is a tiny Indian market a few miles away. He is a connoisseur of local restaurants, and he most enjoys staying home, grilling with his family on his back deck. Of course, a bottle of Green Amigo is never far away, nor is a stash of his original barbecue sauce, reminding him of his 17-year journey as an entrepreneur.
"Everyone thought my barbecue sauce was great," he says. "Of course, you start thinking that 'Hey, maybe I'll make a quick million bucks doing this.' "
But it hasn't been that easy. For most hot sauce producers, he explains, "the market went sky high, but then you realize you can't make a living selling sauce for $6 per bottle at the mall."
More than the financial ups and downs, he adds, is the strain on family life that can come with running one's own business.
"It's been a lot of fun, going to the trade shows and all," he says. "But if I had it to do over again, knowing what I know today, I'd think really hard about it."
Clearly the Mad Dog in David Ashley has mellowed, and the time is ripe for this alchemist to head back into his lab and mix up those more subdued sauces.
Before long, Teriyaki for Pussycats just might share a shelf with Mad Dog 357.
Homemade hot sauce
Commercial hot-sauce maker David Ashley is understandably reluctant to say how he makes the sauces he sells. But he's generous about listing ingredients and urges home chefs to experiment: Use more cilantro, less, or none; add unsulfured molasses; dry or prepared mustard; try a blend of different chilies.
5 chili peppers of your choice (see story on 'heat' below): jalapeño, habanero, Scotch bonnet, or some other, deseeded (wear rubber gloves) and chopped
3 to 5 cloves garlic, chopped
1 small onion, chopped
1/2 cup cilantro, or more to taste (optional)
1/2 cup good-quality, red wine vinegar
Juice of one lemon
1/4 teaspoon salt
Combine ingredients in a food processor and process until liquefied. Transfer mixture to the saucepan and bring to a boil. Simmer for 10 minutes. Let cool and then put the sauce into sterilized glass containers.
Yield: about 2 cups.
The sauce will keep for several weeks in the refrigerator.
- from David Ashley
How hot is 'hot'?
The Scoville heat unit (SHU) was developed by American chemist Wilbur Scoville in 1912 as a way to compare the 'heat' or piquancy of chili peppers. The perception of heat is a measure of how much capsaicin is present. The original test found how many times a unit of pepper extract had to be diluted in sugar water before its piquancy was undetectable by a panel of tasters.
On the Scoville scale, a sweet or bell pepper, which has no capsaicin, rates a 0. A habanero pepper, though, has a SHU of 200,000 or more, meaning that it has to be diluted by a factor of 200,000 before its heat is no longer detectable.
Some sample ratings (in SHUs):
2,000,000-5,300,000: Standard US-grade pepper spray
350,000-577,000: Red Savina habanero
100,000-350,000: Scotch bonnet
50,000-100,000: Thai pepper, malagueta pepper, chiltepin pepper
30,000-50,000: Cayenne pepper, ají pepper, tabasco pepper
10,000-23,000: Serrano pepper
2,500-8,000: Jalapeño pepper
2,500-5,000: Tabasco sauce
1,000-1,500: Poblano pepper
100-500: Pimento
Source: Wikipedia; The Pepper Encyclopedia
www.csmonitor.com | Copyright © 2007 The Christian Science Monitor. All rights reserved