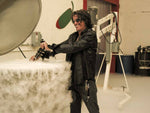 Joe Perry: Keeping It Hot
Considering the number of blues-based riffs that drive so many Aerosmith songs--and even the country elements that creep in every now and then--it's not all that surprising that the band members' affection for Southern culture extends deeply into the region's often spicy cuisine.
Guitarist Joe Perry says that for years now, the band has taken boxes of hot sauce on the road, noting that it even maintains a short-list of key barbecue restaurants across the U.S.
Yet Perry has taken that love to a whole new--and pretty unique--level for one of the world's biggest rock stars.  A hot sauce fan himself for some 20 years, ever since he began vacationing regularly in Jamaica, Perry has launched his own brand of the fiery condiment: Joe Perry's Rock Your World Boneyard Brew.
The sauce--which Perry notes is more akin to the Caribbean, fruit-based sauces than the Louisiana, tomato-based brands--is something the guitarist has wanted to create for some time now.
It's an idea born out of his habit of mixing different sauces while on the road.  "There's always, like, a stack of hot sauce in my dressing room," he says.  "And I found myself blending different ones together, to find what I really liked.  There was always something missing.  So finally, I had this name, 'Rock Your World,' trademarked [about four years ago]."
During the past few years, Perry has been working with friend and Boston-area food industry exec David Ashley and his local Ashley Food Co. to find the right formula.  They have partnered in a company created and funded by Perry.
On a scale of one to 10, Perry says the heat of his sauce is probably a four or a five.  "The heat is not overpowering.  I mean, if you've never had a hot sauce before, you'd probably find it hot.  But if you at all like spicy food--even on occasion--I think you can eat it and like it."
Explaining what makes his sauce distinct, he notes,  "Aside from the fact that it has very high-quality ingredients, everything is as close to fresh as you can get, with no preservatives.  But it also has the chipotle peppers in it, and there's a touch of garlic; that's what I think sets it off."
At joeperryrockyourworld.com, fans can purchase bottles of the sauce and even put in orders for bottles bearing a personalized autograph from the guitarist.
Perry, who occasionally also barbecues for friends--especially when Aerosmith is working in his basement studio, where it recorded 2001's Just Push Play--says he plans to launch a second sauce and a pepper jelly in the coming years.
With a laugh, he says that creating his Boneyard Brew has given him a chance to dispel the idea that since he kicked drugs and alcohol, this former half of the Toxic Twins eats nothing but health food.
"I mean, I like healthy food, but I usually have a steak three or four times a week.  And one of my favorite things to put the sauce on is a hamburger."   --Wes Orshoski