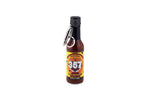 Mad Dog 357 Hot Sauce Collector's Edition
Dedham, Massachusetts, October 22, 2002--The question of which hot sauce delivers the most heat has been a source of fiery debate among chili-heads for years. Number one with a bullet! Made with 6,000,000 Scoville Pepper Extract. That's the 357 Mad Dog Collectors Edition packing 600,000 sizzlin' Scoville units, along with the heavyweight crown of the Worlds Hottest Hot Sauce ever made. Sporting an oh so apropos golden bullet on a key chain, fastened to the bottle of this killer concoction, making this hotter than hot sauce a very cool collectible. Do ya feel lucky punk?
357 Mad Dog Collector's Edition is an all-natural, complex sauce that begins with, Ultra Pure 6,000,000 Scoville Pepper Extract, fiery hot Habanero Peppers, 160 Scoville Super Cayenne Peppers; with red wine vinegar, garlic, onion and evaporated cane juice. The result is a sauce that packs all the heat you can handle wrapped around a wider range of flavors. Quite simply, it's more intriguing than anything you'd ever expect in a sauce that is truly "The World's Hottest Sauce."
With a legal warning on the bottle, about five-seconds after you taste the recommended dose of one scant drop or less, prepare your mouth and mind for five to 20 minutes of agony that all true chili-heads fully understand and appreciate. So what are you waiting for? Join the chili-brigade and indulge in the intense and long-lasting savory eruption that comes from just a drop of 357 Mad Dog Collector's Edition. Because it's so powerful, the average chili freak can get approximately 1,000,000 mind-blowing, fiery doses in each 5-oz. bottle.
Today pepper heat can be measured both organoleptically (that is by taste) and instrumentally. In the latter, an instrumental test uses high-pressure liquid chromatography (HPLC) to determine the number of capsaicinoids in parts per million, with results reported as "percent capsaicinoid by HPLC. 357 Mad Dog Collector's Edition is a super sizzling 600,000 HPLC, which will blow away the nearest competitor. 357 Mad Dog Collector's Edition Hot Sauce packs an incendiary burn that just may go beyond its name.