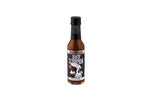 Mad Dog 357 Scorpion Pepper Hot Sauce
Think you like your hot sauce intense? Imagine being bitten by a scorpion—in your mouth! It's one of the most intense pains a human being can experience. The Trinidad Moruga Scorpion pepper was crowned the world's hottest in spring 2012, and this sauce is loaded with it. We dare you...
Ingredients: Vinegar, evaporated cane juice, Trinidad Scorpion peppers, Ghost Pepper, garlic, onion, Peri Peri pepper, spices, and xanthan gum.an gum.
At Ashley Food Company, we do one thing. We make great-tasting and award-winning hot sauces, extreme hot sauces, and pepper extracts. We make each sauce in hand-measured, small batches to ensure incredible flavor and quality. All of our products are made in the USA, using only the finest, all-natural ingredients.