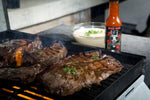 May is for food lovers. No really.
Sure, there are foodie holidays damn near every day of the year. But, there are few months as satisfying as May when it comes to eating well… or rather, stuffing your face.
So, what's on the menu this May?
In addition to all the daily dishes, you'll find plenty of week and month-long celebrations are just waiting to be had.
National Barbecue Month – Time to dust off the grill and grab a new set of BBQ tongs. Summer brings out the best in backyard entertaining, and May is when it all kicks off.
Need a delicious new BBQ recipe? May we suggest this steak? Or perhaps, you want this dip to whet the appetites of your guests while you work your barbecue BBQ magic.
National Loaded Potato Month – Who doesn't love potatoes? We know it's possible, but we don't know anyone who has an easy time turning away from these veggies. And, May isn't just about potatoes; it's a time to celebrate Loaded Potatoes, and we've got two recipes you don't want to miss. The first is a Classic Mad Dog Loaded Baked Potato – and the second, well, it has a twist.
National Hamburger Month – Hell yeah! We're so glad it's Hamburger Month just as the ballparks kick into the season, the BBQs are lit, and the fast-food joints release their limited-edition menus. You know, it's important to have an excuse so you can indulge in those delicious burgers.
National Salsa Month – We love that there are so many different foodie days dedicated to the sauce and salsa lovers. And a whole month of salsa indulgence? We're totally ready for that. And, yes, we've got at least one recipe you absolutely need to try. But that's really just the beginning.
And then there are the National Foodie Weeks in May.
May 3-9: National Herb Week – Now, normally we wouldn't spend too much time on this foodie week, but since the chili pepper is the herb of the year (yes, that's true, we're not making it up), we really want to spread the word on this week's festivities.
May 16-22: American Craft Beer Week – Sure, we don't make beer. But, we do enjoy drinking it, especially when Mad Dog chicken wings are on the table. Who doesn't love a good craft beer?
So, which May foodie holidays do you plan to celebrate this year? If you're anything like us, you'll be ready to indulge in all of these!