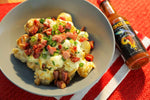 February is National Potato Month in the US.
And, before you shrug your shoulders and move along, think for a moment about how useful these veggies are.
Useful?
Yes, they're exceptionally good at carrying cheese and bacon to your mouth. Ditto that for sour cream and salsa. Better still, potatoes are freaking fantastic with hot sauce.
Boil them, fry them, mash them. Whatever you do with potatoes, they almost always the best thing you've ever had.
And to celebrate National Potato Month this year, we've rounded up the best fiery potato recipes from Mad Dog HQ to ensure you enjoy this month to the fullest.
Sensational Potato Soups
We've got a pair that'll keep you warm and toasty tonight:
Side Dishes That'll Take Center Stage
They may look like ordinary potatoes, but these fiery bites are so much more:
Unforgettable Potato Salads
You'll never be tempted to pick up a plain potato salad again:
Breakfast Potatoes Make It the Best Meal of the Day
Never Suffer an Average Casserole Again
We apologize for the crazy cravings you're about to develop:
The only question remaining is which one you'll make first. If you're having a tough time figuring that out, start with the recipes featuring the hot sauces you have while you wait for new ones to arrive.
Get more Mad Dog today!