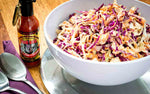 Whether you're having friends round for a BBQ or you're headed out for a picnic, this coleslaw is exactly what you need to wow the crowd.
And, it's one of the best ways to taste the peppery flavor in the Gold Edition hot sauce (though you could substitute with another Mad Dog sauce if you needed). Just remember, it's damn hot – so you'll want to keep it away from the kids.
So, wait until you have a lot of people – or halve the recipe (but maybe not the hot sauce… depending on how hot you like it)!
Ingredients
½ pound Red cabbage, shredded
½ pound Green cabbage, shredded
2 each carrot, peeled, grated
1 each Onion, grated
For the Dressing
2 drops – ¼ teaspoon Mad Dog 357 Gold Edition Hot Sauce
¼ cup Mayonnaise
1 tablespoon Dijon mustard
2 teaspoons Apple cider vinegar
1 tablespoon Caster sugar
½ teaspoon Black pepper
¼ teaspoon Cayenne pepper
Preparation
Make the dressing by adding Mad Dog 357 Gold Edition Hot Sauce, mayonnaise, mustard, vinegar, sugar, black pepper, and cayenne pepper in a bowl. Whisk to combine. Combine red cabbage, green cabbage, carrot, and onion in a large bowl. Add dressing. Season with salt. Toss to combine. Refrigerate, covered, for 2 hours for flavors to develop. Serve.
 At Ashley Food Company, we do one thing. We make great-tasting and award-winning hot sauces, extreme hot sauces, and pepper extracts. We make each sauce in hand-measured, small batches to ensure incredible flavor and quality. All of our products are made in the USA, using only the finest, all-natural ingredients.