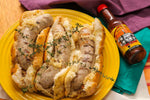 National Bratwurst Day is August 16th and you'll want to spend it around the grill.
This easy all-in-one-pan recipe makes for a perfect meal for 4 – and it's freaking, addictively delicious.
The flavors here are clearly German, but we've spiced it up with some Mad Dog 357 Original Hot Sauce and it pushes this recipe through the roof.
 And, one of the best things about it is that you can prepare the pan in advance and let it sit in the fridge until you're ready to begin cooking. Go out and enjoy the day knowing you've got dinner sorted.
Oh, and may we suggest grabbing a couple of extra beers to wash this down?
It's really the best way to enjoy this combination of flavors.
Ingredients
a few drops Mad Dog 357 Original Hot Sauce
12 ounces Beer (pick your favorite)
3 tablespoons whole-grain mustard 
1 pound Sauerkraut, with juices
6 sprigs Thyme sprigs
2 pounds Bratwursts
4 large Hotdog rolls, for serving
Preparation
Preheat your grill.
In a large, grill-safe pan or disposable aluminum pan, combine the Mad Dog 357 Original Hot Sauce with the beer, mustard, and sauerkraut. Mix well, then top with the thyme sprigs and press the bratwursts into the Mad Dog sauerkraut mix.
Place pan on the hot side of the grill and cook until the beer begins to simmer. It should take 4-5 minutes. Then, move the pan to the cooler side and cover the grill, with the vents open.
Cook for 10 minutes, then turn the sausages and stir the Mad Dog sauerkraut mix. Cook for another 10 minutes, until everything is hot and the sausages are cooked through.
Remove the bratwursts and place on the hot part of the grill and cook for about 3 minutes, turning as needed to get an even char on the sausages.
 Serve the bratwursts in the rolls with a good helping of the Mad Dog sauerkraut.