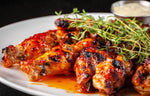 If you feel like you're in a rut when it comes to food, maybe you're not opening your mind and taste buds to all the possibilities.
Traditional meals like breakfast, lunch, and dinner don't haven't to be ordinary when they can taste extraordinary! All it takes to give your meals a boost is some imagination. Hot sauce can certainly spice up just about any meal, or snack for that matter. While you're welcome to try out new flavors and see what works best for your own cravings, we've found certain foods taste even better topped with certain flavors of hot sauce.
Sriracha

, in particular, works extremely well with dishes such as ramen noodles and soups.

In fact, many traditional Asian foods, or Asian-inspired recipes, generally work well with Sriracha hot sauce. It doesn't overpower the food, but rather the two blends together to create one exciting and flavorful meal. A hot sauce that ranks higher on the Scoville heat scale works better because you don't have to worry so much about the liquid diluting the added flavor. As for pizza, some suggest choosing a habanero based hot sauce. The blend of onions, garlic, and habaneros really accentuates the flavor of this cheesy treat. If fish is on the menu tonight, you may want to go for a hot sauce with a citrusy flavor, for it helps bring out the natural flavoring of seafood.

If you're ready to take things up a notch, try pairing ordinary chicken with the spicy hot ghost pepper. This type of hot sauce pairs well with all kinds of foods, though, so feel free to keep your mind open to the possibilities. No matter your taste or what's on the menu, you're sure to find a hot sauce to top off any meal or late-night snack.