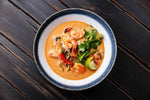 Most people probably don't think twice when it comes to pairing hot sauce with chicken wings.
After all, the flavor of the wings seems like the perfect combo when you add in some hot sauce. You may not even realize, though, that there are all kinds of ways to spice up ordinary food and make it extraordinary. If you're a fan of seafood, in particular, you're definitely in luck! That's because spicy seafood is a great idea, no matter even the time of year.
In some cultures, spicy food just comes naturally.
 Take for example Thai food, which is often spicy and full of flavor. It's common to use a hot and spicy paste or dipping sauce to spice up seafood and bring out the unique flavoring of a meal. A similar trend rings true with Korean food, from spicy seafood soup to Ramen. Caribbean food is often made with some extra zest too, including many spicy seafood creations. If you're unsure about where to start, you can try adding some extra spice to your seafood boil, adding some extra zip to your next seafood stew or making your own marinade for a spicy seafood skewer. Seafood and hot sauce blend well in a gumbo or you can try spicing up a fish stew with an extra hot flavoring of pepper puree. Even ordinary scrimp scampi turns into a fiery creation with the addition of hot pepper flavor.

Seafood works so well with hot sauce because some seafood is quite frankly kind of bland without the extra dose of flavor. That's why people are always looking for new ideas, whether with a flavorful rub, a spicy marinade or some super hot dipping sauce. No matter your taste for hot sauce, you're sure to find a great combination when you try spicing up seafood with hot sauce and hot pepper products.