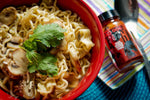 Who doesn't love a quick and easy weeknight meal for one that packs a punch and is super easy on the budget?
And, if you like mushrooms, this is exactly the sort of ramen dish that will turn your head. It's surprisingly satisfying and you could probably stretch it enough to feed two…
If you're the type that can share!
Ingredients
1 pack Ramen noodles (dry, unprepared)
1 cup Mushrooms, chopped
1 teaspoon Garlic paste
1 teaspoon Onion paste
2 cups Water
½ teaspoon Mad Dog 357 Naga Morich Pepper Puree
Salt, to taste
Fresh coriander, chopped, to serve
Preparation
In a pan sauté mushrooms, Mad Dog 357 Naga Morich Pepper Puree, garlic, and onion pastes. Add the dry ramen noodles, salt to taste and water. Boil for 5 minutes and serve warm with coriander!