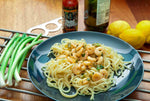 In some parts of the world, scampi refers to specific seafood.
In the United States, we think of it as a way to prepare a pasta dish. Shrimp scampi is the hands-down favorite, of course, but you can get chicken scampi. And, we recommend substituting leftover chicken shreds instead of shrimps in this recipe if you're allergic to seafood.
But, however you prefer to think about scampi, we're celebrating with this recipe. This baby has some bite. Plus, it serves four and whips up in minutes.
What's not to love?
Ingredients
4 tablespoons butter, divided
4 tablespoons Olive oil, divided (plus more for drizzling)
2 medium Leeks, finely diced (or shallots, if you prefer)
1 teaspoon Mad Dog 357 Ghost Pepper Hot Sauce
2 cloves Garlic, minced
1 pound Shrimp, peeled and de-veined
Salt and freshly ground black pepper
½ cup Dry white wine
Juice of 1 Lemon
¼ cup Parsley, finely chopped
Cooked Linguine, to serve
Preparation
Prepare the linguine (or preferred pasta) according to package instructions and set aside.
Melt half the butter and olive oil in a large skillet over medium-high heat. Add the leeks and Mad Dog 357 Ghost Pepper Hot Sauce and sauté until the leeks are soft (about 3-4 minutes). Add the garlic and stir for another 30 seconds. Season the shrimps with salt and pepper and add to the pan. Cook for about 2-3 minutes, until they've turned pink. Remove the shrimps from the pan and set aside. (Please don't skip this step; it makes all the difference.)
Add the wine and lemon juice to the pan and allow it to just bubble before you add the remaining butter and olive oil. When the butter is melted and the sauce is smooth, return the shrimps to the skillet and stir to coat well. Taste – and add more hot sauce if you desire – plus the parsley. Give everything a good stir and then serve on a bed of linguine. And, feel free to drizzle just a bit more olive oil if that's what works for you.