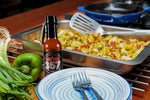 Sometimes, it's difficult to decide between loaded skins and hot wings, isn't it?
We know it's especially true when Mad Dog is involved! Of course, there's nothing saying you must choose. And this easy casserole is a prime example of just how easy it is to combine the two. Don't worry, it's super easy and even more delicious.
One bite and you'll need it almost constantly!
Ingredients
1 tablespoon Mad Dog 357 Pure Gold hot sauce
½ cup Olive oil
2 cloves Garlic, minced
1½ teaspoons Salt
1 tablespoon Pepper
1 tablespoon Paprika
8 -10 medium Potatoes, cut into ½" cubes (you can leave the skins on, as long as you wash them)
2 pounds chicken breasts, boneless, and cut into ½" cubes
For the Topping:
2 cups Cheddar cheese, shredded
1 cup Bacon, cooked and crumbled
1 cup Green onion, sliced

Preparation

Preheat oven to 450ºF. Lightly grease a baking tray.

In a large mixing bowl, combine Inferno hot sauce, oil, garlic and spices. Add the potatoes and toss to coat the potatoes. When the oven is hot, transfer the potatoes to prepared baking tray, leaving any juices in the mixing bowl. Roast potatoes for 55-60 minutes. You'll need to give them a good stir every 10-15 minutes. They're done when they're crispy on the outside.

Meanwhile, add the chopped chicken to the mixing bowl and mix together until chicken is coated. Cover and marinate while potatoes cook.

When the potatoes are done, remove them from the oven and reduce the heat to 400°F. Add the chicken to the baking tray and pour over any remaining bowl juices. Add the toppings and return tray to the oven. Bake for 15 minutes (or until chicken is cooked through) and cheese is bubbling.

Need more Inferno heat? Feel free to add it (or some ranch dressing if it's a little too hot for you).