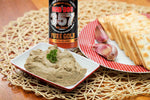 Now, we know that chicken livers don't sound romantic at all.
But, when you say pâté, the mood changes entirely. Besides being a (easier than you would imagine) French dish, it goes ever so well with wine, cheese, oysters, and everything else indulgent. Basically, it's the kind of dish you should have on tap when it's time to turn on the romance.
We've added the heat you've always wanted to a classic hors d'oeuvres.
And, you can save yourself some time on special days by preparing this in advance. Just add a layer of melted butter to the top, cover in plastic wrap as directed and then refrigerate for a week (or place in the freezer for two months).
Ingredients
1 teaspoon Mad Dog 357 Pure Gold Hot Sauce
½ pound Chicken livers, trimmed
½ small Onion, thinly sliced
1 small Garlic clove, smashed and peeled
1 each Bay leaf
¼ teaspoon Thyme leaves
½ teaspoon Kosher salt
½ cup Water
1½ sticks Butter, at room temperature
2 teaspoons Cognac (or Scotch whiskey)
Freshly ground pepper
Toasted baguette slices, for serving
Preparation
Combine the Mad Dog 357 Pure Gold Hot Sauce with the chicken livers, onion, garlic, bay leaf, thyme and salt in a medium saucepan. Add the water and bring to a simmer. Cover and reduce the heat to low. Cook, stirring occasionally until the livers are barely pink inside – about 3 minutes. Remove from the heat and cover. Allow to stand for 5 minutes.
Discard the bay leaf. Use a slotted spoon to transfer the livers, onion, and garlic to a food processor and pulse until coarsely puréed. Keep the machine running and add the butter, a little bit at a time until it's well-combined. Then, add the Cognac and let the food processor blend it until smooth. Scrap into ramekins or small bowls. Cover with plastic wrap and press down onto the surface of the pâté. Chill in the fridge until firm and ready to serve.