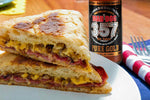 It's almost impossible to pass by anything that's got BBQ sauce, bacon, and cheese, isn't it?
Add in some caramelized onions and Mad Dog Pure Gold Hot Sauce, and you won't even be able to speak; you'll just be stuffing your mouth. This recipe makes four sandwiches, but you may as well shop for a few of these sandwiches at once because you'll need this for a few meals in a row.
Ingredients
8 slices Bread
4 slices sharp Cheddar
1 large Onion, thinly sliced
3 tablespoons Butter
1 teaspoon Mad Dog 357 Pure Gold Hot Sauce
4 tablespoons BBQ sauce
8 slices bacon, cooked
Preparation
Melt 1 tablespoon of butter in a skillet over medium heat. Add the sliced onion and stir occasionally until color changes to slightly brown and the taste is sweet, about 10-15 minutes. Remove onions from skillet and set aside.
Spread 1 Tbsp. of the remaining butter onto one side of each slice of bread.
In a small bowl combine Mad Dog 357 Pure Gold Hot Sauce and BBQ sauce. Divide BBQ sauce evenly among 4 of the slices, and spread evenly opposite the butter side.
Lay bacon then cheddar cheese on top of sauce. Divide caramelized onion among the sandwiches. Finish assembly by placing remaining bread slices on top. The butter sides of the bread should both be on the outside of the sandwiches.
Melt the remaining butter in the skillet on medium-low. Cook sandwiches two at a time, flipping when bread is golden brown on one side and cheese begins to melt.