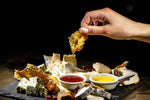 Remember the hot, sunny days when you would head to the public pool as a kid and instantly start craving the nacho cheese chips they had on offer.
Maybe it was Doritos by the side of your friend's pool. Or, maybe you were the cool one in the neighborhood and it was your pool.
Whatever it was, tortilla chips were probably there in some form.
But, you might have called them corn chips or nacho chips or tostados. Whatever the hell you called them, tortilla chips were a staple – and they still are. You probably have a bag stashed somewhere in the house right now. (Why wouldn't you?)
That's probably why we celebrate the little known holiday of the tortilla chip on February 24th. Okay, we think it's totally better suited to summer. But hey, anything that brings a) the tortilla chip to the fore, and b) allows you to remember how great summer is… is a winner.
If we're calling it like it is, though, we must bring up the most important thing about tortilla chips though… what you serve with them.
Now, we know you're jumping to Mad Dog hot sauces. We can't fault you for that; so are we.
But, it's not a simple matter of slathering a bunch of super hot sauces over a bag of chips and calling it a day. You'll need a more sophisticated vehicle for your Mad Dog, if only because you want to enjoy every bite rather than constantly jumping around the room like a freaking fool.
That's why we have dips.
And, that's exactly why we have dips.
We should also let you know that we never wait for February 24th to nosh on chips and dip, which is why we've got a killer collection of Mad Dog dips that will make you drool (and then make your lips feel like they're bleeding).
And without further ado, these are the ones you should be whipping up to celebrate the goodness that is the tortilla chip (or nacho chip or corn chip or whatever you want to call it):
Mad Dog's Crazy White Bean Dip
Need more Mad Dog to get your chip on?
We understand if you're afraid of running out of Mad Dog. We hear that a lot. So, you may as well stock up on your fire now. It'll pay off. Promise.
Get your Mad Dog fix now