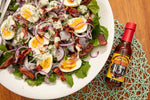 All-New Potato and Egg Salad
This isn't anything like the egg salad you grew up with. And, you probably wouldn't even recognize the potatoes with their bright purple color. But this is all-new, egg and potato salad are set to make serious waves.

On top of all that, we loaded a new dressing with all the Mad Dog super hot sauce heat you can stand (and maybe even more than you can handle). Well that, and a little bacon for squeals of flavorful delight.

Give it a go; you'll be the hit of the block party this year (and, well, any time you serve it).
Serves: 6   -  You'll need:
½-1 teaspoon Mad Dog 357 Original Hot Sauce
½ cup tahini
½ cup of water
1 lemon, juiced
½ teaspoon dried dill
½ cup fresh parsley
water, for boiling
4 eggs
1½ pounds purple potatoes, peeled and roughly chopped
5 oz baby arugula
2 green onions, sliced
6 slices bacon, cooked and chopped
salt and black pepper, to taste
Preparation
In a food processor or blender, combine the
Mad Dog 357 Original Hot Sauce
with the tahini, water, lemon juice, dill, and parsley. Whiz until mostly smooth (with flecks of the parsley). Set aside.
Fill a small pot just over halfway with water. Bring to a boil over medium heat, then carefully lower in the eggs. Set a timer for 10 minutes. When cooked, remove the eggs from the pot and place it in a bowl of cold water to cool (and stop the cooking process). When cooled, peel the eggs and cut in half lengthwise.
Meanwhile, fill a separate, larger pot just over halfway with water. Bring to a boil and add the purple potatoes. Cook until potatoes are fork-tender, about 20-25 minutes. Drain and set aside.
When the eggs and potatoes are ready, assemble your salad with layers of arugula, green onions, potatoes, eggs, and bacon. Season to taste with salt and pepper. Drizzle over the Mad Dog tahini dressing and serve.