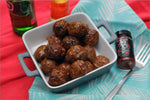 We're not sure there are better meatballs than this.
No really; they're that good. Do a quick count; bacon, beef, BBQ, bourbon, and a healthy dose of Mad Dog Reaper Pepper Puree. There isn't anything missing except the napkins you'll need to wipe your face after you start shoving these in it.

If we could rave more, we would. But, that might be a little inappropriate. Or, maybe not. Give them a try to be your own judge.
You seriously won't regret it.


Ingredients
6 strips Bacon
½ medium Onion
1 pound Ground beef
½ cup Breadcrumbs
2 tablespoons fresh parsley, chopped
1 large Egg
1 teaspoon Chili powder
1 teaspoon salt
1 tablespoon Vegetable oil
1 tablespoon
Mad Dog 357 Reaper Pepper Puree
1 cup BBQ sauce
½ cup Water
3 tablespoons Bourbon
Preparation
Place the bacon and onion in a food processor and blitz until finely chopped then transfer to a large mixing bowl. Add the ground beef, breadcrumbs, parsley, egg, chili powder, and salt and stir to combine.
Roll meatballs into 24 equally-sized meatballs and set aside.
Heat the oil in a large skillet over medium heat. Add the meatballs (in batches, if necessary) and cook, turning regularly for about 8-10 minutes, until completely cooked. Transfer meatballs to a plate and discard excess grease from the skillet.
Add the
Mad Dog 357 Reaper Pepper Puree
along with the BBQ sauce, water, and bourbon to the saucepan and stir to mix the sauce. Add the
meatballs
and simmer for 10 minutes.