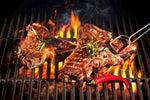 As grilling season swings into gear, you may be gathering your supplies for the hot dogs and burgers you've been dreaming of all winter long.
And, you may think it's how most people do it (that or the various forms of barbecue popular in several regions of the US).

Of course, there's that whole shrimp on the barbie thing you've heard Australians do, but otherwise, it's got to be mainly burgers and dogs, right?

Erm, no.

For a start, hamburgers and hot dogs seem to be the exception rather than the norm.
And, Aussies aren't normally putting shrimps on their barbeques – although grilled prawns frequent these festivities. (Make the most of our Pure Ghost Hot Sauce by using prawns instead of shrimp in this recipe.)

In fact, an Australian barbie is more similar to a South African braai. And, you'd never catch a burger or dog at one of those. (Braai simply means roast in Afrikaans and refers to both the cook-out-like event and the grill used for cooking.)

You'll find marinated steaks (try this recipe with Reaper Sriracha Hot Sauce) and pork chops on the braai in South Africa, along with flattened chickens and sosaties (meat skewers) and boerewors (thick, rolled sausages made from pork, beef and a mix of herbs and spices).

Okay, you won't find braai wors at an Aussie barbie, but the others aren't too far off, including the sosaties (give this recipe with Scorpion Peppers a try), which have their roots in Malaysia – and, perhaps, are a cousin to the Japanese yakitori which you may have picked up as the warm dish to complement the cold ones at your favorite sushi restaurant. And, let's be honest hibachi is the Japanese version of grilling.

Europeans (at least Western Europeans) aren't exactly known for their grilling culture; it's more of a special event than something you're called to do every weekend. That is, except for Sweden, where you'll find pork sausages and salmon are the names of the game. (May we suggest Scorpion Hot Sauce paired with either of these?)

Then there's the South American version of a cook-out which is more likely to include much more of any animal, most especially beef. Whether stretched over an open flame or simply cut into thick steaks over American-style grills, it's freaking delicious with any of your favorite Mad Dog Hot Sauces.

Got plans for your grill this summer?

Whether you're sticking with burgers and dogs or planning a braai or barbie for your next cook-out, you'll want some more Mad Dog to make it special. Pick up your favorite or try something new.